Welcome to Ark Elvin Sixth Form. 
We are proud to be a unique and inclusive Sixth Form that enables pupils from all backgrounds to aspire to top Universities and Apprenticeships. 
We specialise in offering a rigorous BTEC provision as we know that this is what's best for the students in the community that we serve. Our professional Pathways is more than simply a BTEC, providing a wrap-around curriculum that builds pupils skills and prepares them for the world of work. For hard working, ambitious pupils who want to go to do great things but don't think A Levels are right for them, Professional Pathways are a fantastic alternative. 
Our Foundation programme provides students who have yet to pass English and Maths the opportunity to do so in an academic sixth form setting with high ambition and a progression route onto our Professional Pathways courses. This means that these students have a clear path to University that they may not get elsewhere. 
Despite only opening in 2020 our results speak for themselves, ranking within the top 25% in the country for progress in 2022, and we are just getting started! Our pupils go on to Russell Group and top third Universities including the likes of Queen Mary, Royal Holloway, Sheffield, Cardiff, UEA and more. 
By joining our Sixth Form you will experience: 
High Expectations – Our students dress and act in a professional manner and are seen as role models and leaders around the school. 
Culture of hard work – Our students benefit from two study rooms to complete their independent work outside of lessons in an academic climate. Hard work is reflected in attainment but also rewarded through our rewards and Elvin Honours Programme. 
High aspirations – Everything we do is focused on providing the best possible academic education to reach top destinations and have successful careers. But also to provide enrichment, opportunities and experiences that develop our pupils personally and make them more well rounded individuals. 
We are a friendly, welcoming and diverse Sixth Form looking for ambitious pupils. If you would like to join us we would love to receive your application! 
I look forward to meeting you. 
Adam Ciombor 
Assistant Principal – Head of Sixth Form 
Image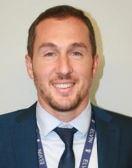 How to apply
Applications to start Sixth Form in September 2024 open in November 2023.
Applications are made directly to our sixth form and you will be able to apply via a link that will show on this website.
Each student must complete an application form with details of predicted grades and related course options. After submitting an application, each student will have a formal admissions interview with a member of the Sixth Form team. We then send out conditional offers based on the student's predicted grades and their related courses options at that time. Offers are subject to change or withdrawal in accordance with the actual results a student achieves.
If you have any questions about the admissions process, please email sixthformadmissions@arkelvinacademy.org
Open days
Join us every Wednesday morning from 9.30am to 10am to see how our school runs on a normal day and see first hand what makes Ark Elvin special. Must be booked in advance. 
Pathways
Professional Pathways
Professional Pathways is an innovative programme of study for Ark BTEC students aged 16-18, comprising a high quality vocational curriculum that is directly relevant to the workplace and teaches students key employability skills. This programme is aimed at preparing students to apply for selective universities or for progression directly into employment through school leaver programmes or degree apprenticeships. We offer four subjects: IT, Business, Sport and Exercise Science, and Applied Science.
Entry criteria: 5+ GCSE grades are 4 or above including English and maths
Foundation Pathway
Our Foundation programme dedicated 1 year course for pupils who need to resit GSCE Maths or English. You will study either Maths, English Language or both. Alongside this you will study for a Level 3 qualification, equivalent to 1 A Level, in either ICT or Business Studies. This means you are not simply repeating Yr 11 – but gaining new skills and knowledge you can use to progress to college, or onto a full Professional Pathway with us in 21-22.
Entry criteria: 5 GCSE's at Grade 3 or above including a grade 3 in English or Maths
Ark's unique Professional Pathways programme
Sixth formers love our unique vocational alternative to A levels, which provides them with the skills they need to thrive at university and throughout their career.
Access game-changing bursaries
For Year 13 leavers going onto higher education, we offer bursaries ranging from £3,000 to £50,000 to help with the financial costs of university life.
Best-in-class careers provision
Our pupils dream big for life after school thanks to our highly aspirational careers programme, which includes visits to prestigious universities and employers, one-to-one guidance and a rich programme of workshops and visiting speakers.